Love a girl who read #Kinfolk and #quotebook at the same time, she's just #cute!
Catch the real Aloft vibe at W XYZ℠ bar, a no-walls, no limits space that's always abuzz. Connect your gear to the free Wi-Fi and get some work done during the day before W XYZ℠ bar transforms to the hip & happening bar of Bangkok at night. #wxyzbar #aloftbangkok
#
Use App technology to make living or holidaying in Thailand just that little bit easier. And best of all, they're FREE.
Aloft Hotels will bring a new kind of hotel experience to Perth that is open and upbeat, with its industrial, urban aesthetic, sophisticated design and savvy use of space. Let us welcome our new sister property, Aloft Perth. The door is open on this May 26, click here to enjoy an exclusive opening offer > aloftperth.com
Fruit tarts
Thank you very much for joining our #cravingbrunch today! Always a pleasure having you on. See you again on next month. ขอบคุณทุกท่านที่มาร่วมรับประทานอาหารกันในวันนี้ ที่ห้องอาหารเครฟ ไวน์ บาร์ แอนด์ เรสเทอรองส์ แล้วเจอกันใหม่กับหลากหลายเมนูที่คุณชื่นชอบทั้งคาวหวานในเดือนหน้า แล้วพบกัน!
Homemade Hong Kong Waffle
Today...It's a "Craving Brunch" day at Crave Wine Bar & Restaurant. Don't miss it! Only at THB 599 per person from 12-4 pm. #brunch #buffet #seafood #salad #hotdish #dessert #foodie #foodporn #yummy #tasty #delicious #worthit #saturday #lunch #restaurant #bangkok #sukhumvit #alofthotels #crave #aloftbangkok
The art of a culinary #Kitchen #FushionInTheMaking #SignatureDish #Basil #Thailand #AloftHotels #AloftBangkok #Chef #Sukhumvit11 #Craving #Crave
ขอแสดงความยินดีกับคุณ Warin Siripitugs ที่เป็นผู้โชคดีได้รับบัตรรับประทานอาหาร "Craving Brunch" ฟรี สำหรับ 2 ท่าน ที่ห้องอาหาร Crave Wine Bar & Restaurant โรงแรม อลอฟท์ กรุงเทพฯ-สุขุมวิท 11 ในวันเสาร์ที่ 20 พฤษภาคมนี้ และขอขอบคุณทุกๆ ท่านที่เข้ามาร่วมสนุกเล่นเกมส์กับทางโรงแรม อย่าลืมติดตามเพจของ Aloft Bangkok - Sukhumvit 11 เพื่อร่วมสนุกและลุ้นรับของรางวัลในครั้งต่อๆ ไป สำหรับท่านอื่นๆ ที่พลาดของรางวัลไป ยังสามารถมาเพลิดเพลินกับการรับประทานอาหารในบรรยากาศสบายๆ ยามสายวันเสาร์ ในราคา 599 บาทต่อท่าน (รวมเครื่องดื่ม soft drinks) ตั้งแต่เวลาเที่ยงตรงไปจนถึง 16.00 น. ข้อมูลเพิ่มเติมเกี่ยวกับ Craving Brunch > bit.ly/2rxogN0 #cravingbrunch #aloftbangkok
Morning poolside shot in the city of angel
#muimuitravelbangkok #Breakfast
#muimuitravelbangkok The view @aloftbangkok #suite #muimuialoftstay #aloftbangkok #aloftbkk #aloftbangkoksukhumvit11 #bangkok #bkk #spg #spglife #starwood #starwoodhotels #hotel #travel #thailand #sukhumvit11 #room
#muimuitravelbangkok New #cocktail Thai Thai
#muimuitravelbangkok #phadthai with #prawn
#muimuitravelbangkok #Breakfast
#muimuitravelbangkok Good Morning @aloftbangkok
#muimuitravelbangkok
#muimuitravelbangkok Room @aloftbangkok
#muimuitravelbangkok Big room to stay @aloftbangkok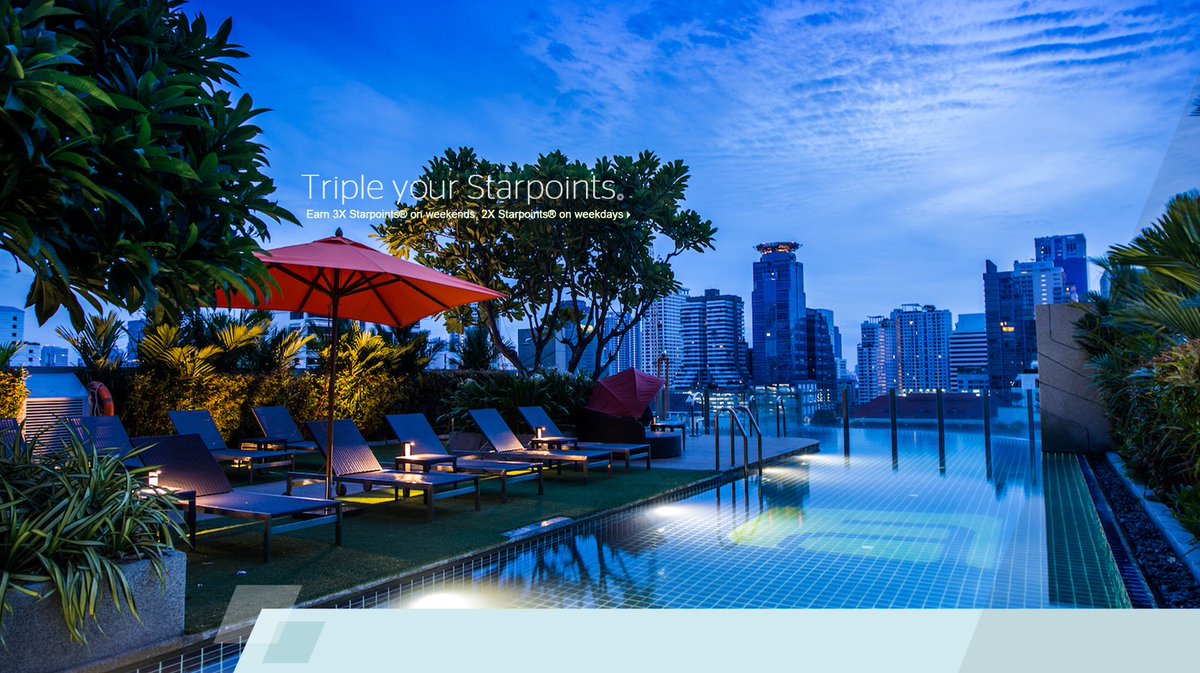 Earn 3X Starpoints® on weekends, 2X Starpoints® on weekdays. https://t.co/Z5skGN37sq https://t.co/087IZgiM3e
SPG® Take Three Just stay two or more nights at participating SPG® hotels and resorts between May 27 through September 4, 2017. Registration ends August 30, 2017. •3X triple Starpoints® on weekends. •2X double Starpoints® on weekdays. Link: http://bit.ly/2rkLZzQ
Never skip workout on Monday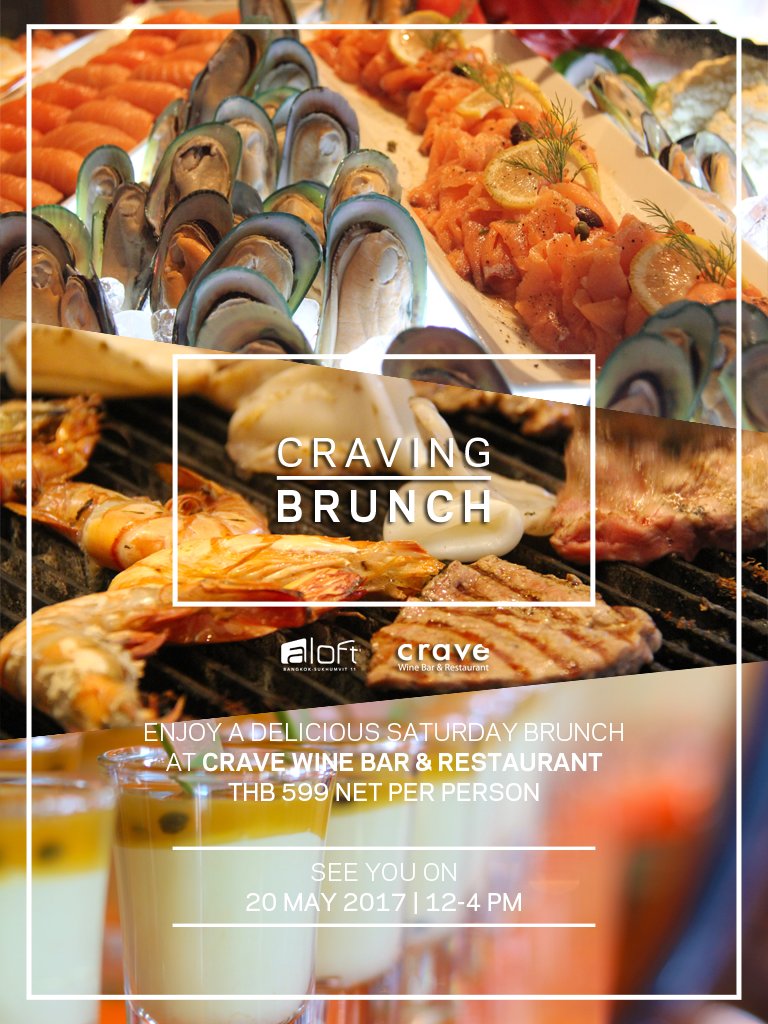 EVERY THIRD SATURDAY OF THE MONTH | FROM 12-4 PM THE WAIT IS WELL WORTH IT! https://t.co/ZShshRgbWw https://t.co/Dk6TgSGAjM
ร่วมเล่นเกมส์กับเราและคุณอาจเป็นผู้โชคดีที่จะได้รับบัตรรับประทานอาหาร "Craving Brunch" ฟรี สำหรับ 2 ท่าน ที่ห้องอาหาร Crave Wine Bar & Restaurant โรงแรม อลอฟท์ กรุงเทพฯ-สุขุมวิท 11 มูลค่า 1,198 บาท กติกาง่ายๆ คือ เพียงแชร์ภาพนี้และบอกกับเราว่าคุณอยากทานอะไรใน Craving Brunch พร้อมกับติด hashtag #cravingbrunch และ #aloftbangkok (อ่านข้อมูลเพิ่มเติมและชมรูปภาพได้ที่ bit.ly/2qVprIG) ติดตามเพจนี้เพื่อร่วมสนุกได้ถึงวันพฤหัสบดีที่ 18 พฤษภาคมนี้ และประกาศรายชื่อผู้โชคดีในวันศุกร์ที่ 19 พฤษภาคม เวลา 12.00 น. (เงื่อนไขเป็นไปตามที่โรงแรมกำหนด)
Being a country guy more than a city guy I also have, from time to time, to dive deep in the concrete jungle. This city kind of reminds me São Paulo, Brazil, and just like there I can see beauty but not enough to make me live here. Heading back to Phuket... I wish! #bigcity #concretejungle #aloftbangkok #bangkok #thailand #traveling #afifensenomundo #picoftheday #photooftheday #iphoneonly #igworld #ig_daily #igworldclub #allshots_ #ultimate_shot #my_daily_capture #my_top_shot
Here we go girls, you are all set up for a great Thursday night out at W XYZ℠ bar. You can enjoy free flow wines fr… https://t.co/TNwQMwskuC
Dear all guests, we do not serve alcoholic drinks today until midnight in all venues. Due to the "Makha Bucha Day", alcohol is not served in observance of religious holidays in Thailand. Thank you